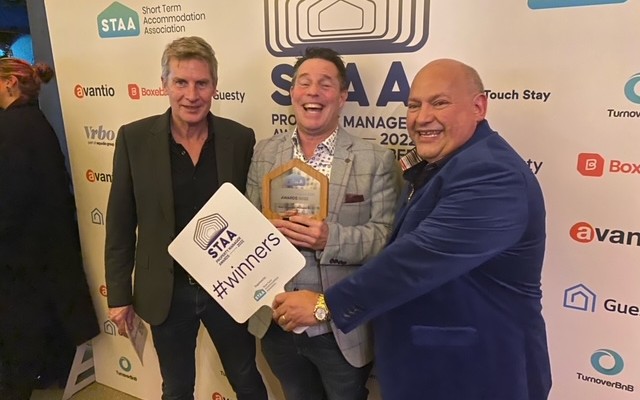 We are thrilled to announce that we have won the Best Property Manager London & South East 2022/23 award at the prestigious STAA Property Manager Awards 2022/23.
Our team has been recognised for our ongoing commitment to the local community and economy. During the last year, MyGetaways welcomed over 15,000 guests who stayed over 10,000 nights in Brighton and East Sussex.
Director of Operations, Mark Byford who picked up the award in London on Wednesday evening, commented: 
"Bookings last year generated over £15 million in guest spending on concepts, such as dining out, attractions and tours, and food and leisure shopping. This year we are on track to exceed that figure. We can't be prouder."
On hearing about the win, Founder Steve Taggert commented: "Well done to my incredible team who have made the dream a reality and thanks to Mark Byford for picking up the award on the company's behalf, and being the best right hand man a business owner could ask for."
About the STAA Awards
The annual awards recognise excellence in the short-term rentals sector in the UK with the category of Best Property Manager, broken down by region.
2022/3: A year of expansion 
2022 was also a year of expansion for the My Getaways team who have scaled up from offering a pure Brighton-based portfolio to a holiday lets portfolio that features self-catering properties throughout East Sussex.
"Brighton Getaways was relaunched as My Getaways to cater to our growing portfolio of holiday lets throughout East Sussex. Guests can choose from 100 properties in Brighton & Hove, Worthing, Lewes, Seafood, Hove, Lancing, Shoreham, Rottingdean, Horsham, Burgess Hill and Peacehaven."
Our onboarding program ensures that whilst we grow our portfolio, the quality of holiday lets under the My Getaways brand is never compromised.
Investing in the latest technology
This year, the My Getaways tech team developed My Thermo: a native smart thermostat linked to our PMS (property management system) that switches heating up, down and off. Saving owners on utility bills and reducing the carbon emissions of each property.
As energy prices are now a serious consideration for owner clients, the team was challenged to find a way to reduce gas energy usage in our holiday let properties, both during guest stays and between bookings.
My Thermo is connected directly to our property management system, controlling the temperature of the property automatically 24 hours a day, 7 days per week.
My Getaways is the first property manager to deliver bespoke technology of this kind to owners and investors.
Addressing sustainability
Sustainability has also become an important part of the My Getaways commitment to guest experience and the planet with the incorporation of three award-winning sustainable homes.
Green Mews, Hove has been recognised with a highly commended residential award in the Sussex Heritage Trust Highly Awards 2022. The homes feature solar panels, underfloor heating, insulated walls made from 90 per cent recycled plastic, paper and wood, and an EV charger and achieved an outstanding EPC rating of A:102.
Heading into 2023, the team is committed to increasing the number of eco-friendly properties and are looking at other initiatives, such as eliminating single-use plastics in properties and installing EV chargers where possible.
About the STAA Property Manager Awards
The UK Short Term Accommodation Association (STAA) is the trade association for the short-term rental sector in the UK. It exists to represent the industry to policymakers, improve standards through education and stakeholder engagement, and drive growth opportunities for members by creating a community of like-minded businesses.
The aim of the association is to support the sustainable growth and continued development of the industry in the British Isles.
Investors & Owners
If you are an owner or investors who like to work with a professional team and start earning a hassle-free short-term rental income, get in touch with the My Getaways team today or use our Rental Income Calculator to find out how much you could be earning with My Getaways.